Ball Screw End Conditions
It is no surprise that Joyce/Dayton offers complete end machining to fit our standard bearing blocks. But did you know that we also provide finished machining for customer-specified end requirements? It is easy to order the finished screws - just send us your specifications.
Note: Our bearing mounts are sealed and greased at the factory. They are suited for high duty cycle conditions where frictional forces cause a thermal transfer of energy into the screw assembly. The resulting thermal migration will cause the screw to expand axially. Screw end machining and fit of the bearing support are designed to account for this expansion.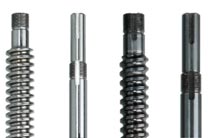 SB Bearing Blocks and Screw End Conditions
DB Bearing Blocks and Screw End Conditions
FB Bearing Blocks and Screw End Conditions
SB Screw End Conditions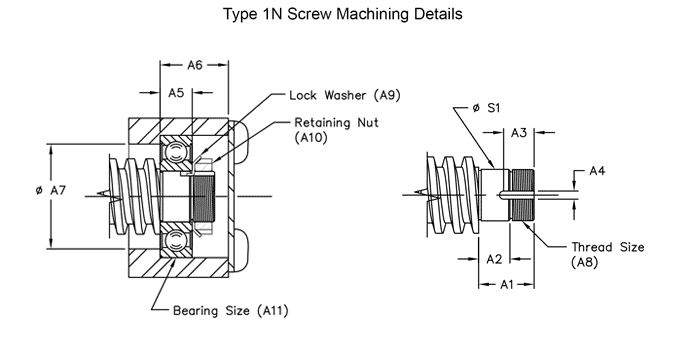 Screw Number
Bearing Mount No.
oS1
A1
A2
A3
A4
A5
A6
o A7
A8
A9
A10
A11
BS063R020A
SB-12
0.4726
0.890
0.450
0.56
0.127
0.472
1.029
1.25
.469-32 UNS
W-01
N-01
6301
BS063L020A
0.4723
0.125
BS075R020A
SB-15
0.5908
0.930
0.490
0.56
0.127
0.512
1.094
1.38
.586-32 UNS
W-02
N-02
6302
BS075R050A
0.5905
0.125
BS100R025A
SB-20
0.7877
1.070
0.570
0.63
0.190
0.590
1.305
1.75
.781-32 UNS
W-04
N-04
6304
BS100L025A
0.7873
0.188
BS100R050A
BS100R100A
BS150R100A
SB-25
0.9846
1.190
0.650
0.70
0.190
0.669
1.420
2.06
.969-32 UNS
W-05
N-05
6305
BS150R188A
0.9842
0.188
BS150R050A
SB-30
1.1814
1.275
0.720
0.70
0.190
0.748
1.587
2.43
1.173-18 UNS
W-06
N-06
6306
1.1810
0.188
BS225R050A
1.7721
1.550
0.960
0.80
0.315
0.984
2.000
3.50
1.767-18 UNS
W-09
N-09
6309
1.7716
0.313
BS250R050A
2.1659
1.770
1.120
0.86
0.315
1.142
2.225
4.13
2.157-18 UNS
W-11
N-11
6311
2.1653
0.313
BS300R066A
2.3627
1.880
1.195
0.90
0.315
1.220
2.375
4.50
2.360-18 UNS
W-12
N-12
6312
2.3622
0.313
BS400R100A
3.1501
2.270
1.510
1.05
0.377
1.535
2.750
6.00
3.137-12 UNS
W-16
N-16
6316
3.1495
0.375
FB Screw End Conditions

Screw Number
Bearing Mount No.
oS1
oS2
A1
A2
A3
A4
A5
A6
A7
A8
A9
A10
A11
BS063R020A
FB-12
0.4726
0.406
4.30
3.00
2.35
1.850
0.472
0.923
0.038
.469-32 UNS
W-01
N-01
1/8 x 5/8
BS063L020A
0.4723
0.405
BS075R020A
FB-15
0.5908
0.500
4.62
3.31
2.73
2.000
0.512
0.995
0.035
.586-32 UNS
W-02
N-02
1/8 x 5/8
BS075R050A
0.5905
0.499
BS100R025A
FB-20
0.7877
0.625
5.05
3.80
3.10
2.375
0.590
1.217
0.035
.781-32 UNS
W-04
N-04
3/16 x 5/8
BS100L025A
0.7873
0.624
BS100R050A
BS100R100A
BS150R100A
FB-25
0.9846
0.750
6.06
4.50
3.75
2.815
0.669
1.500
0.083
.969-32 UNS
W-05
N-05
3/16 x 1
BS150R188A
0.9842
0.749
BS150R050A
FB-30
1.1814
1.000
6.67
4.92
4.20
3.300
0.748
1.828
0.075
1.173-18 UNS
W-06
N-06
1/4 x 1
1.1810
0.999
BS225R050A
1.7721
1.375
8.62
6.37
5.60
4.694
0.984
2.750
0.035
1.767-18 UNS
W-09
N-09
5/16 x 1 1/2
1.7716
1.374
BS250R050A
2.1659
1.875
10.10
7.35
6.50
5.608
1.142
3.350
0.035
2.157-18 UNS
W-11
N-11
1/2 x 1 1/2
2.1653
1.874
BS300R066A
2.3627
2.250
11.56
8.06
7.15
6.035
1.220
3.620
0.062
2.360-18 UNS
W-12
N-12
1/2 x 2
2.3622
2.249
BS400R100A
3.1501
3.000
14.50
9.95
8.95
7.845
1.535
4.800
0.062
3.137-12 UNS
W-16
N-16
3/4 x 3
3.1495
2.998
DB Screw End Conditions

Screw Number
Bearing Mount No.
oS1
oS2
A1
A2
A3
A4
A5
A6
A7
A8
A9
BS063R020A
DB-12
0.4726
0.406
3.29
2.00
1.566
0.472
0.000
.469-32 UNS
W-01
N-01
1/8 x 5/8
BS063L020A
0.4723
0.405
BS075R020A
DB-15
0.5908
0.500
3.59
2.59
2.145
0.512
0.040
.586-32 UNS
W-02
N-02
1/8 x 5/8
BS075R050A
0.5905
0.499
BS100R025A
DB-20
0.7877
0.625
4.00
2.88
2.378
0.590
0.040
.781-32 UNS
W-04
N-04
3/16 x 5/8
BS100L025A
0.7873
0.624
BS100R050A
BS100R100A
BS150R100A
DB-25
0.9846
0.750
4.45
2.89
2.328
0.669
0.000
.969-32 UNS
W-05
N-05
3/16 x 1
BS150R188A
0.9842
0.749
BS150R050A
DB-30
1.1814
1.000
5.33
3.60
3.047
0.748
0.063
1.173-18 UNS
W-06
N-06
1/4 x 1
1.1810
0.999
BS225R050A
DB-45
1.7721
1.375
6.68
4.49
3.875
0.984
0.063
1.767-18 UNS
W-09
N-09
5/16 x 1 1/2
1.7716
1.374
BS250R050A
2.1659
1.875
8.40
5.40
4.700
1.142
0.063
2.157-18 UNS
W-11
N-11
1/2 x 1 1/2
2.1653
1.874
BS300R066A
2.3627
2.250
9.22
5.54
4.832
1.220
0.063
2.360-18 UNS
W-12
N-12
1/2 x 2
2.3622
2.249
BS400R100A
3.1501
3.000
11.55
6.87
6.070
1.535
0.063
3.137-12 UNS
W-16
N-16
3/4 x 3
3.1495
2.998