TR 20 - 5 Single Lead Trapezoidal
This 20 mm. diameter single lead metric (trapezoidal) screw has a 5 mm lead. It is available in alloy steel or stainless steel material with corresponding aluminum bronze nuts. Choose from right-hand or left-hand threads.
Metric screw specifications
RH
LH
Alloy steel screw part no.
TS 020 R 005 A
TS 020 L 005 A
Stainless steel screw part no.
TS 020 R 005 S
TS 020 L 005 S
Thread form
Trapezoidal
Screw diameter - turns/mm
TR 20 - 5
Lead
5 mm.
Root diameter
14.03 mm.
Screw weight (lb/ft)
2.0 kg./m. (1.34 lb./ft.)
Torque to raise 1 kN
1.928 Nm (17.1 in.-lb.)
Maximum screw length
3.66 m. (12 ft.)
Nut and Flange Specifications

Nut specifications
RH
LH
Nut part no.
TN 020 R 005 B
TN 020 L 005 B
Nut with flange part no.
TF 020 R 005
TF 020 L 005
Dynamic load capacity (lbs)
10 kN (2,248 lb.)
Static load capacity kg. (lbs)
45 kN (10,116 lb.)
Efficiency
41.8%
Material
Bronze
Nominal Diameter "A"
34 mm.
Nut length "B"
32 mm.
Thread length "C"
13 mm.
Thread size
M30 x 1.5
Flange part no.
FL-3000
Flange diameter "D"
75 mm.
Flange thickness "E"
14 mm.
Flange hole diameter "F"
7 mm.
Number of holes in flange "G"
4
Flange Bolt Circle "H"
60 mm.
Flange material
black oxide coated steel

Click on Product Specifications below to view Bearing Block and Screw End Conditions options available for this screw.
Screws are made from alloy steel
Nuts are made of bronze material and flanges are steel with a black oxide coating
SB Bearing Blocks

Screw Number
Bearing Mount No.
A
B
C
D
E
F
G
H
I
J
K
TS020R005A
SB-12
3.9000
1.875
1.000
0.375
1.125
1.125
2.250
0.672
1.344
.281 (4x)
.406 Thru
TS022R005A
.625 C'Bore
.875 Deep
DB Bearing Blocks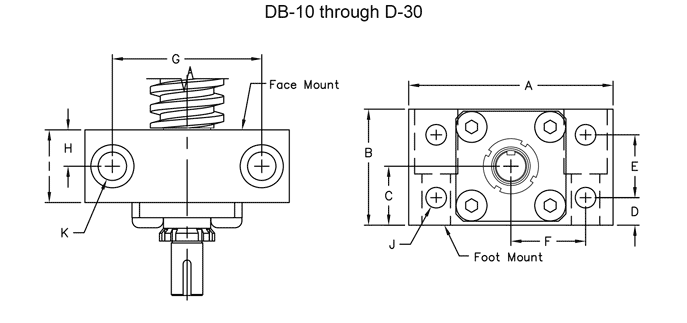 Screw Number
Bearing Mount No.
A
B
C
D
E
F
G
H
I
J
K
L
TS020R005A
DB-12
3.000
1.875
1.000
0.375
1.125
1.125
2.250
0.672
1.344
.281 (4x)
.406 Thru
N/A
TS022R005A
.625 C'Bore
.875 Deep
FB Bearing Blocks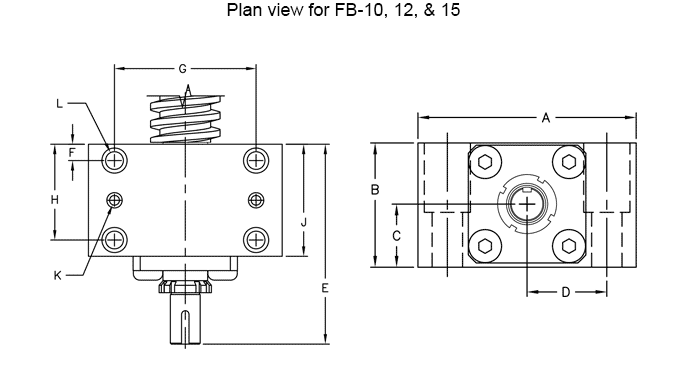 Screw Number
Bearing Mount No.
A
B
C
D
E
F
G
H
I
J
K
L
TS020R005A
FB-12
3.000
1.875
1.000
1.125
4.262
0.438
2.250
1.688
1.063
2.125
.250 Thru
.406 Thru
TS022R005A
.375 C'Bore
.625 C'Bore
#5 Taper Pin
1.130 Deep
SB Screw End Conditions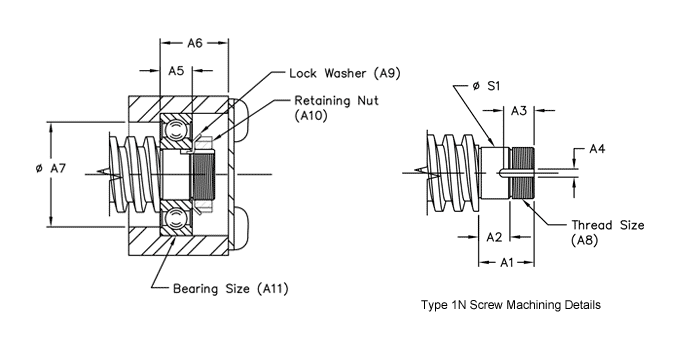 Screw Number
Bearing Mount No.
o S1
A1
A2
A3
A4
A5
A6
o A7
A8
A9
A10
A11
TS020R005A
SB-12
0.4726
0.890
0.450
0.56
0.127
0.472
1.029
1.25
.469-32 UNS
W-01
N-01
6301
TS022R005A
0.4723
0.125
DB Screw End Conditions

Screw Number
Bearing Mount No.
oS1
oS2
A1
A2
A3
A4
A5
A6
A7
A8
A9
TS020R005A
DB-12
0.4726
0.406
3.29
2.00
1.566
0.472
0.000
.469-32 UNS
W-01
N-01
1/8 x 5/8
TS022R005A
0.4723
0.405
FB Screw End Conditions

Screw Number
Bearing Mount No.
oS1
oS2
A1
A2
A3
A4
A5
A6
A7
A8
A9
A10
A11
TS020R005A
FB-12
0.4726
0.406
4.30
3.00
2.35
1.850
0.472
0.923
0.038
.469-32 UNS
W-01
N-01
1/8 x 5/8
TS022R005A
0.4723
0.405