Linear Actuators 1500# DC
LA152L, LA152C (12 VDC)
Joyce linear actuators are designed to lift and precisely position loads up to 1500 pounds. They are built with cast aluminum housings, include 12 VDC motors, and are available with either a limit switch (LA152L) or with a clutch (LA152C). These actuators are best suited for use in environments that are protected from the elements.
12 VDC
Double clevis or trunnion mount
Threaded end condition available
Travel lengths 3", 6", 12", 18", 24"
Maximum travel speed with 1500-pound load, 34" per minute
Slip clutch option available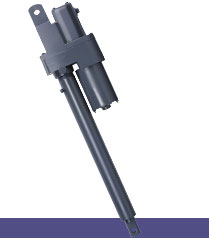 REQUEST A QUOTE
O&M Manual, DC
Sample Part Number:
Click on the part number to reveal additional informaton about jack designs and shaft codes.
Model Number
1500- Pound Capacity
LA152 (12VDC)
LA155 (115VAC)
Options
LA152 (DC)
LA155 (AC)
L= Limit Switch
C= Clutch
L= Limit Switch or P= Potentiometer and Limit Switch
Screw End
CL= Clevis End
TE= Threaded End
Mounting Style
 
LA152 (DC)
LA155 (AC)
SC= Standard Clevis
TM= Trunnion Mount
Rise
Rise
Code
3"
03
6"
06
12"
12
18"
18
24"
24